Steeped in religious conspiracy and international intrigue, 2006's The Da Vinci Code and 2009's Angels and Demons paraded as intellectual thrillers with labyrinthine storylines. Unfortunately, beneath the highbrow subject matter were two rather dull, convoluted adaptations of Dan Brown's bestselling books. While the 'Robert Langdon' series of films has never been particularly great, it has always been consistent in offering the odd delightful thrill with its historical enigmas and art-based puzzles. With Inferno, director Ron Howard gives us more convoluted conspiracy and less historical enigma – consequently, despite another charming turn from Tom Hanks' as series hero Langdon, Inferno continuous the franchise trend as an occasionally exciting, mostly tedious globetrotting adventure.
Inferno kicks off with Ben Foster's billionaire geneticist, Bertrand Zobrist, fleeing from some pursuers through the streets of Florence. The frantic chase ends in Zobrist throwing himself from a tower, to his death. After some nightmarish hallucinations, world-renowned symbologist Robert Langdon wakes up in a Florence hospital, suffering from mild amnesia. Langdon meets Dr. Sienna Brooks (Felicity Jones), who attempts to help him retrace his steps. Moments later, an assassin dressed as an Italian police officer is killing nurses and firing shots down the hallway. Prof. Langdon and Dr. Brooks run for their lives – twenty minutes in, two disorienting chase sequences, virtually no established narrative.
Once Langdon has pieced together his fractured memory and solved a few puzzles in Renaissance paintings, we learn that Zobrist, before dying, had developed a virus to cull humanity's numbers before we overpopulate ourselves into extinction. Langdon and Brooks set out to locate the virus before it's unleashed. Along the way they solve some Dante-influenced puzzles, catch trains, planes and automobiles and engage in chase after tiresome chase with angry WHO (World Health Organisation) agents.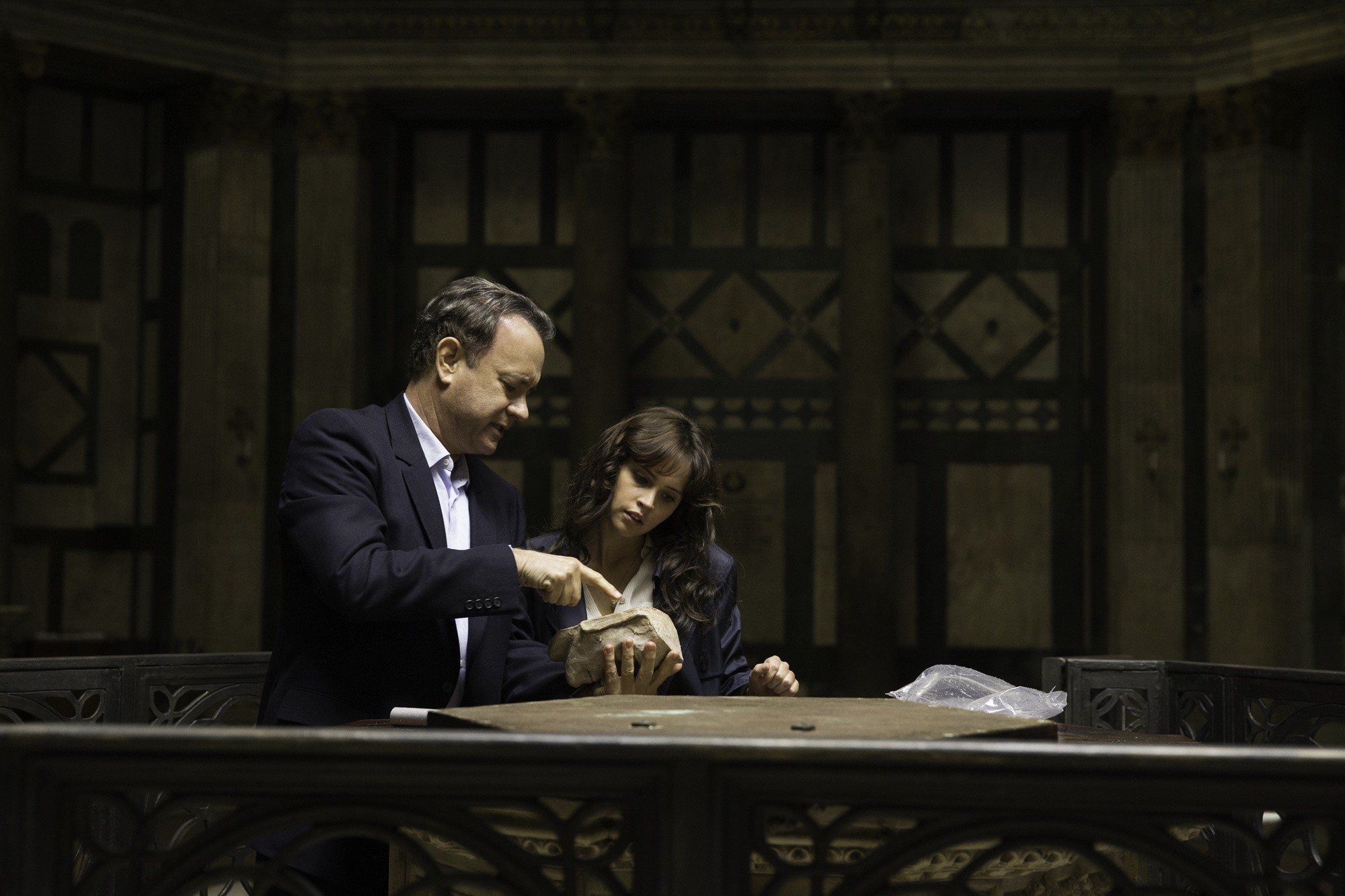 While Langdon is usually an expert in his field, his brief coma has rendered him a little useless. Fortunately, Brooks is also an expert on Dante and is able to help out – this makes for a more interesting dynamic than in previous instalments and is a refreshing change. However, the amnesia narrative impetus is the kind of stale plot device that's been relegated to the world of video games, with reason. Here, it just feels like a lazy way to establish mystery early on. Inferno's beginning is awkwardly cryptic and only serves to inspire frustration, rather than intrigue.
Admittedly, the final act of Inferno packs a few solidly entertaining punches. Unfortunately, to get to that point, we must sit through some seriously clumsy dialogue, hackneyed attempts at narrative crossing and double-crossing and a plot that is notably lacking a real villain. Naturally, Hanks is a pleasure to watch – while he's capable of more, he does all the screenplay requires of him. Irrfan Khan is fantastic as the head of shady organisation, 'The Consortium', injecting some devilish fun into what is overall a rather dully acted affair. Hans Zimmer's synth-laden score drives the film's occasional exciting moments forward at a stimulating pace and the cityscapes of Florence are certainly easy on the eye. Overall, while Dan Brown aficionados might find some pleasure in checking out the book's transferral to the big screen, Inferno will prove a little too awkwardly convoluted and lacking in genuine thrills for most audiences.